Myles Willis
BMR-PT, MClSc(MT)
Providing Acupuncture, Vestibular and Concussion Rehabilitation
Email Myles
Myles graduated from the University of Manitoba in 2010 with a degree in Bachelors of Medical Rehabilitation-Physical Therapy. Myles has a strong passion for continuing education, which is evident in the many courses he has taken since graduation, one of which is completing his certification in acupuncture in 2010 from the Acupuncture Foundation of Canada Institute. His passion has taken him near and far and he has gone to complete a Clinical Masters of Science in Manipulative Therapy from the University of Western Ontario in London Ontario in 2015 and a Certification in Vestibular Rehabilitation from the Emory University of Medicine in Atlanta, Georgia. Myles recently completed his certification in GUNN IMS(intramuscular stimulation) and dry needling at the University of British Columbia, which uses a neuropathic pain model for needling.
Myles has an interest in treating patients suffering from concussions, vertigo, dizziness and balance dysfunction as well as incorporating manual and manipulative therapy into his treatment program. In addition, he has extensive training in the management of concussions and rehabilitation of the runner.
Myles understands that every patient is unique – this allows him to use his wealth of knowledge and skill set to his full advantage for each and every patient helping them achieve their goals and restoring them to their best self.
When he's not taking courses or studying, Myles assists with instructing level courses through the Orthopedic Division, has put in countless hours to have his work published in the Journal of Physical Therapy and Sport and has also provided his talent and skills to numerous hockey and football teams providing on and off field assessments and treatments.
Myles maintains a very active lifestyle by playing hockey, running, cycling, working out at the gym, and chasing around his two boys.
Myles was born and raised on a farm just outside of Stonewall, Manitoba.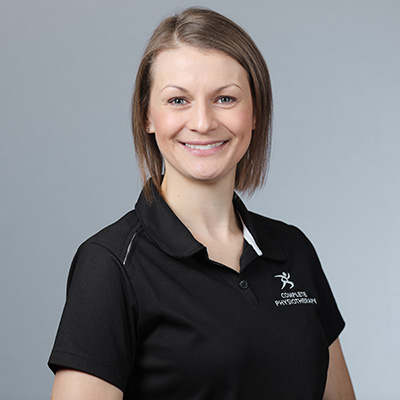 Bohdanka Willis
BMR – PT
Providing Acupuncture, Orthopedic, and Hand Therapy
Email Bohdanka
Bohdanka Willis graduated from the University of Manitoba with a Bachelor of Medical Rehabilitation – Physical Therapy degree in 2010. Since graduation she has worked in rural, urban and northern settings and is very excited to be adding Complete Physiotherapy to her employment repertoire.
Bohdanka has taken many continuing education courses including completing her Acupuncture training in 2011, completing her Level two and three upper and lower manual therapy courses through the Orthopedic Division, as well as many upper extremity courses in pursuit of completing her Certification in Hand Therapy in the near future. Bohdanka has a very keen interest in hand and upper extremity physiotherapy and thoroughly enjoys treating injuries involving the upper limb.
Bohdanka has also had the opportunity to work in the Pain Clinic at Health Sciences Center where she gained a wealth of knowledge in treating individuals with persistent pain. Combining her employment and educational experience, it is evident that Bohdanka truly loves her job and profession and treats every individual uniquely providing them with an individualized treatment approach best suited to the patient's needs and goals.
Bohdanka loves to stay active by running, cycling and practicing yoga, which keep her active and lifestyle busy!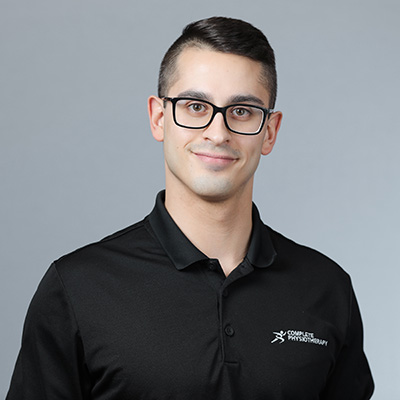 Carlos Ruiz
BSc, MPT
Providing Orthopaedic Physiotherapy
Email Carlos
Carlos graduated from the University of Manitoba School of Medical Rehabilitation with a Masters Degree in Physical Therapy in 2017.
Prior to completing his Masters, Carlos completed a Bachelor of Science from the University of Manitoba (2015). Throughout the MPT program, Carlos developed a passion for manual therapy and continued to develop his hands skills once being selected to complete the Advanced Manual Therapy placement in his second year. Since graduating, Carlos has taken multiple musculoskeletal courses and has completed both level 2 certifications through the Orthopaedic Division. Carlos has been accredited in acupuncture since 2019 and plans on pursuing his dry needling certification in the near future.
Carlos believes in a patient centred approach and continues to further his education in order to provide the most current evidence-based treatment. Carlos' treatment plans primarily consists of manual therapy and active exercise-based programs in order to empower his patients to take control of their own rehabilitation and encourage a more active lifestyle.
Outside of work, Carlos maintains an active lifestyle and is a avid football fan. Carlos demonstrates his strong loyalty by endless supporting mediocre teams.
Christopher Loewen
B(Kin), MPT
Providing Acupuncture/Dry Needling, Orthopaedics, Vestibular and Concussion Rehabilitation
Email Christopher
Chris graduated from the University of Manitoba in 2015 with his Masters of Physical Therapy. He has been working in private practice physiotherapy since that time. Chris has a keen interest in further education and has taken many courses since graduation to further serve his patients. Chris has completed his Level 3 orthopaedic training and is certified to practice both acupuncture and dry needling.

Chris has a growing interest in treating patients experiencing dizziness, vertigo, and concussions as he has certified in Intro & Advanced Vestibular Therapy course work. Chris understands the value of communication and developing a one on one plan with his patients to help them achieve their goals. Chris has contributed to his profession through many hours of volunteerism at a variety of sporting events including the Physio FitRun, AAAA Provincial High school sports and the MB marathon.
Outside of the clinic, Chris enjoys maintaining an active lifestyle – whether it be on the golf course, cycling or running with his dog. He grew up in North Kildonan and enjoys serving those in the surrounding neighbourhood.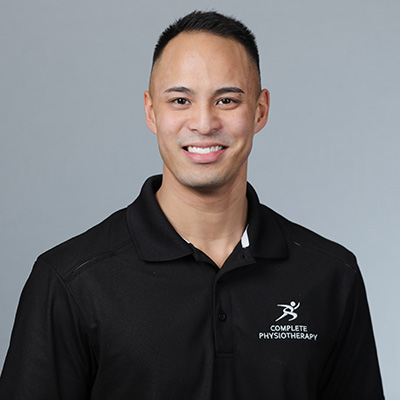 Jeff Manliguez
BA, MPT
Providing Orthopaedic Physiotherapy
Email Jeff
Jeff graduated from the University of Winnipeg with a Bachelor of Arts in Kinesiology in 2014 and continued to receive his Master of Physical Therapy degree from the University of Manitoba in 2017. Prior to physical therapy, Jeff was a personal trainer working with both the general population and athletes. During his studies, Jeff developed an aptitude for manual therapy and has become adept in the assessment and management of a variety of acute and chronic injuries. Jeff integrates his extensive knowledge in exercise, research and biomechanics to provide an active, evidence-based approach to rehabilitation.
After graduation Jeff completed his Diploma of Advanced Orthopedic Manual and Manipulative Therapy Level 1, Level 2 upper quadrant and level 2 lower quadrant. Jeff also plans to achieve his fellowship with the canadian academy of manipulative therapy and his master's in rehabilitation sciences.
Jeff is also certified in Sports first responder and is an active member of the Sports Physiotherapy Canada council.
Jeff has volunteered with high school volleyball and basketball teams as well as the St. Vital Mustangs football club. Outside of work Jeff enjoys loving an active lifestyle with a keen interest in exercise and nutrition, camping, hiking, snowboarding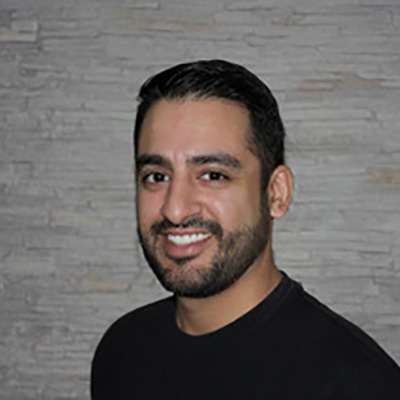 Peter Sidhu
BSc, MPT
Providing Orthopaedic Physiotherapy
Email Peter
Peter graduated from the University of British Columbia in 2008 with a double major in Genetics/Cellular Biology and Economics. Following a brief stint in the world of finance Peter moved to Winnipeg and completed his Masters of Physical Therapy in 2014. After graduation Peter has been working in Orthopaedic Physical therapy showing a keen interest in advanced education by completing many courses. To date, among others, he has completed the Level 2 upper and lower orthopaedic division courses, Level 3 upper orthopaedic division course, Feldenkrais Neurological Movement course and Pan Am Shoulder Repair and Rehabilitation Symposium.
Peter is trained and ready to treat all parts of the human body but has shown a specific affinity to post operative patients, headaches/ neck and head injuries, and shoulder dysfunctions.
As a general philosophy, Peter treats each patient as a unique individual regardless of the extent of their injury. He aims to understand each patients specific needs and will build a custom treatment program based on his detailed assessment findings. His goal with each patient is to promote long term physical health and well being via acute injury care and preventative planning.
Outside of the clinic, Peter spends part of his time volunteering with the Rock Steady Parkinson's Boxing Club and the Winnipeg Humane Society.
When not doing the above you will find Peter on the golf course, camping or at the lake staying active but most recently just enjoying a lazy day at home.
Peter was born and raised in a small town in the interior of BC and decided to come experience Manitoba winters in person.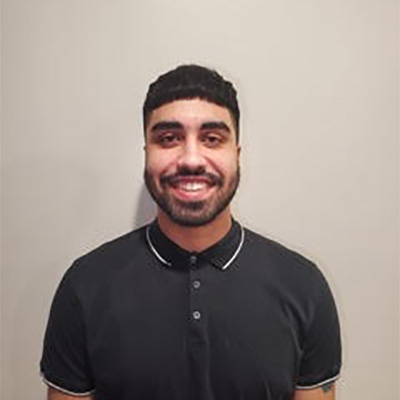 Arsh Gill
BSc, MPT
Providing Orthopaedic Physiotherapy
Email arsh
Arsh graduated from the University of Manitoba with his Master's of Physical Therapy in 2020. Prior to that, he completed his Bachelor of Arts and the U of M as well.
The drive to pursue a career in physiotherapy comes from a history of seeking treatment himself for all sorts of injuries on and off the basketball court and seeing the impact that the profession makes on all aspects of an individuals life. Throughout his various placements in school, he developed a keen interest in the orthopedic and private practice aspect of physiotherapy. Having completed his Level 1 in the Orthopedic division, Arsh plans to continue through the Orthopedic levels to expand knowledge in the field.
His ability to speak Punjabi also helps communication with individuals for whom English is their second language. Arsh is very familiar with the East Kildonan area and is eager to begin helping the community that he was raised in.
Kelsey Lacroix
BSc. Kin - Athletic Therapy CAT(C)
Email Kelsey
Kelsey graduated from the University of Winnipeg with a Bachelor of Science in Kinesiology – Athletic Therapy degree in 2018 and became a certified athletic therapist in 2019. She is a certified first responder and is trained in dealing with injuries from the moment they happen to the day the person returns to their activity or sport. Her expertise expands further, as she is a personal trainer for people of all ages and levels. Kelsey wants to help her clients maintain a healthy lifestyle and reach their goals. You can also find her covering sports games and events providing first aid, emergency care, and on-field assessment and rehabilitation.
Kelsey uses an active approach with rehabilitation. She uses the tools that are going to help her clients get moving and feeling better and ensures she educates her clients on their body and injury. Kelsey regularly takes continuing education courses and stays up to date on evidence-based research to provide her clients with the best treatment.

Since an early age she knew she wanted a career that centred around people and injuries. Kelsey fell in love with human anatomy and how the body functions. She grew up always playing a sport, her favourite being volleyball. Outside of the clinic you can find her actively exploring the province and spending time at the cabin in Lac Du Bonnet.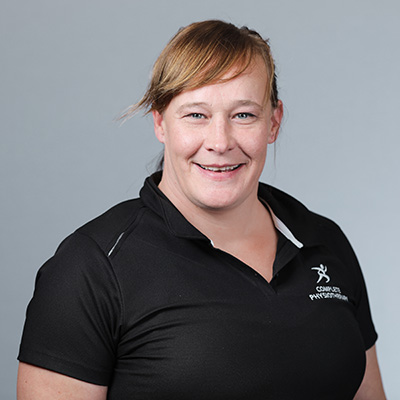 Elyse Copp
RMT
Massage Therapist
Email Elyse
Elyse Copp is a Registered Massage Therapist who has been in practice since 2001. An alumni of Wellington College, she went back in 2003-2005 to teach anatomy and exercise rehabilitation. She currently is part of the exam team with the college.
A sports enthusiast, Elyse grew up as a competitive gymnast, and continues to play volleyball and soccer. She was introduced to disc golf and is loving it. Bringing with her an intricate knowledge of how the body works with and against you, especially when trying to remain active as we age.
Having an active lifestyle, she has a passion for therapeutic massage and how it an help anyone from the armchair athlete, to the joint replacement patient get back to doing the things they enjoy.
In her spare time she heads out to the cottage with her two dogs.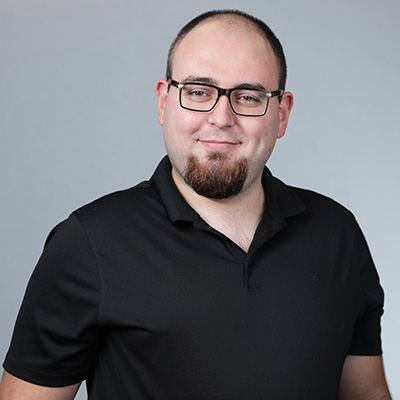 Alan Moore
RMT
Massage Therapist
Email Alan
Alan is a Registered Massage Therapist and graduate of Robertson College (2017). He is currently preparing for a return to studies to pursue a bachelor's degree of kinesiology with plans to later pursue a master's degree of physical therapy.

Compassion. Empowerment. These are core to Alan's beliefs about effective healthcare. Whether you're looking to improve your recovery after setting a new personal best at the gym, or are just getting back to exercise and fitness, you will find these two principles in every massage treatment he provides.

Alan has been and continues to be very active in community sports having assisted various organizations which offer curling, cross country skiing, bowling and tennis.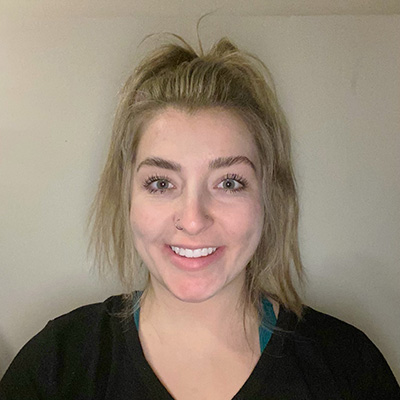 Tessa Barbour
RMT
Massage Therapist
Email tessa
Tessa graduated from the Massage Therapy program at Robertson college in 2017. Armed with certifications in cupping therapy and IASTM she specializes in sports massage. Mixing her love of movement and socializing, Tessa fell naturally into the massage therapist role. She's passionate about helping her clients achieve their treatment goals.
Kara Hordal
Administrative Assistant
Email Kara
Kara grew up in Lundar, MB. Her small town upbringing taught her the value of hard work and helping others. From a young age, she was always there to lend a helping hand, whether it be around the house, or volunteering at various events in the community. After completing her Bachelor of Arts degree from the University of Manitoba, Kara joined the workforce. Her kindness, compassion and willingness to lend a helping hand set her apart. She brings with her years of office experience and a passion for helping others. Self driven, hardworking and motivated, Kara looks forward to being a part of the Complete Physiotherapy team.
In her free time, Kara can be found tackling her latest venture: motherhood. She is the proud mom to her young daughter Annika.